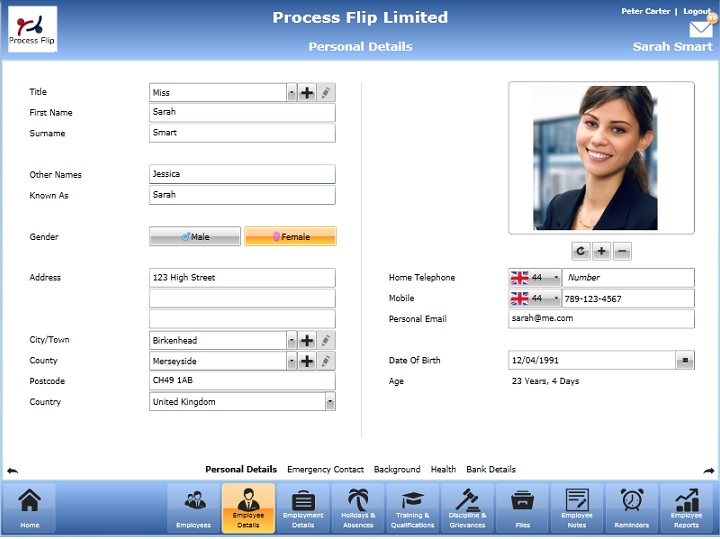 Information retention in the field of human resources is key to compliance.
Perhaps more important is the efficiency in which that information is kept and retrieved. Management information is key to managing well, and too often the information we have about our most expensive asset, our employees is poor and out of date.
EmpresaHR, supplied by Process Flip, is a cloud based software solution that is new, low cost, yet functionally rich. Easy to update information, manage the complete record of your employees and gain full sets of reports for employees, departments, locations or teams.
The point about HR software is that it  saves you time, money and eliminates uncertainty in managing employee personal details, employment details, holidays, absenteeism, disciplinary, grievances, training, qualifications, salaries, appraisals, work patterns, vehicles, leavers and much more.
The easy to use software enables HR departments, line managers and the employees themselves to manage HR processes with efficiency and speed, thereby reducing administration and cutting down on costs.
The HR software can be hosted on-cloud enabling businesses to make better use of their budget by reducing the investment normally required by on-premise systems. Line managers have key employee data at their fingertips and subject to security access are able to view and administer any information for their associated employees.
Empresa HR gives employers, managers and employees access to the information wherever and whenever they need it.
Centralised employee database for easy access and management
Customisable Dashboard
Future proof - the system can scale with your business
Proactively identify those employees who disrupt your business through absences
Track and analyse performance and pay across your business
Define company policy for total HR compliance
Cost-effective – No additional hardware to purchase
No upgrade, security or hardware maintenance costs
Reduced carbon footprint – minimal IT infrastructure required
Simple to use - easy and intuitive for HR departments, managers and employees
Access employee information 24 hours a day, 7 days a week – wherever you are
You can find more information at http://www.empresahr.com/
For more information and a no obligation demonstration, please contact us.